News
Hands-on therapy for shoulder pain helps recovery time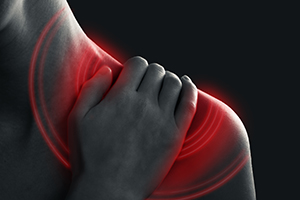 Many individuals who develop shoulder pain have long-term issues
Shoulder pain is a fairly common condition. In fact, there's a one in three chance that you will experience some form of shoulder pain at least once in your lifetime. Although many cases of shoulder pain improve with treatment over time, up to 50% of individuals who develop it go on to still have issues with shoulder function 1-2 years later. This highlights why it is so important to find effective treatments that help patients improve in the long term. Some physical therapists use a technique called cervical manipulation, which consists of the therapist moving the bones in of the neck in various ways with their hands. It's known to reduce pain and disability in the shoulder, but also comes with a set of risks. Another technique is thoracic manual therapy, which applies similar techniques to the middle portion of the spine. It's believed that this treatment may lead to comparable improvements without the same risks as cervical manipulation, but there is not enough evidence to clearly support its use. Therefore, a systematic review was conducted on thoracic manual therapy for shoulder pain, which is a powerful study that collects all the available research on the topic with the goal of establishing a conclusion.
Five electronic databases searched for relevant studies
Researchers searched through five electronic databases for studies that investigated the use of thoracic manual therapy to treat patients with shoulder pain. This process led to three randomized-controlled trials (RCTs), which are considered the most powerful type of individual study that can be performed, and four other studies that were of lower quality. These seven studies contained information on 496 patients with shoulder pain, who were treated with a variety of techniques that took place for as long as 12 weeks. Patients were evaluated for several outcomes like pain and disability for up to one year, and the findings of all these studies were compared to one another to determine the true value of this treatment.
Patients experience less pain and disability for up to one year after treatment
Results from the systematic review showed that patients treated with thoracic manual therapy improved significantly more than those who received other treatments. In particular, the three RCTs found that they experienced a quicker recovery with reduced pain and disability for at least 12 weeks, and up to one year after treatment. In addition, a ranking tool found that the evidence provided in the RCTs was of high quality, which makes the information it provides even more reliable. Based on these findings, it appears that thoracic manual therapy is an effective technique for patients with shoulder pain. It can accelerate their recovery and lead to less pain and disability in the long term. Patients dealing with this type of pain should, therefore, seek out a physical therapist that provides these types of services in order to experience significant and lasting improvements.
-As reported in the September '15 issue of the
Journal of Manual and Manipulative Therapy
October 28, 2017
See News
Disclaimer:
The information in the articles, posts, and newsfeed is intended for informational and educational purposes only and in no way should be taken to be the provision or practice of physical therapy, medical, or professional healthcare advice or services. The information should not be considered complete or exhaustive and should not be used for diagnostic or treatment purposes without first consulting with your physical therapist, occupational therapist, physician or other healthcare provider. The owners of this website accept no responsibility for the misuse of information contained within this website.