News
Exercise therapy found to be effective for patients with knee pain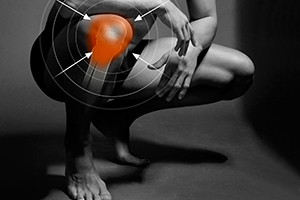 Most effective conservative treatment not yet known
Patellofemoral pain syndrome (PFPS) is a condition that involves pain in the front of the knee, and it's particularly common in people who are physically active. The pain may come about at various times, but many patients complain of pain while running, climbing or descending stairs, or squatting or sitting for too long. Though a conservative (non-surgical) approach is usually recommended, the most effective treatment for PFPS is not yet known. Exercise therapy is believed to be effective for these patients, but it's not completely clear which exercises are best. For this reason, a high-quality systematic review and meta-analysis was performed on all available literature on the topic.
Fifteen high-quality studies are used for review
Four medical databases were searched for studies on exercise therapy as a treatment for PFPS patients, and 285 studies were initially identified. Of these, 270 were excluded for various reasons, which led to 15 randomized-controlled trials (RCTs) on 748 participants used for the review. RCTs are considered the most powerful type of individual study that can be conducted. The outcomes of interest were pain and functional abilities, which were assessed using the visual analog scale (VAS) and patient-reported measures of activity limitations and participation restrictions (PRMALP).
Exercise therapy leads to short- and long-term improvements in both measures
Results from this systematic review and meta-analysis showed the exercise therapy led to improvements in both VAS and PRMALP scores in patients with PFPS. These effects were identified in both the short-term (less than 12 weeks) and long-term (more than 26 weeks) follow-up periods, showing that the improvements from treatment were maintained. Unfortunately, there was not enough evidence in the review to determine which types of exercises were most effective for these patients. This, combined with the fact that every case of PFPS is different, means more research is necessary to better define which treatments are most effective. In the meantime, exercise therapy should be viewed as an effective conservative treatment for PFPS, and each patient should be given individual care based on their specific symptoms.
-As reported in the December'14 issue of
Physical Therapy
August 26, 2015
See News
Disclaimer:
The information in the articles, posts, and newsfeed is intended for informational and educational purposes only and in no way should be taken to be the provision or practice of physical therapy, medical, or professional healthcare advice or services. The information should not be considered complete or exhaustive and should not be used for diagnostic or treatment purposes without first consulting with your physical therapist, occupational therapist, physician or other healthcare provider. The owners of this website accept no responsibility for the misuse of information contained within this website.