News
Low back pain patients experience benefits from exercise & education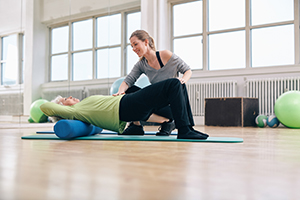 Condition affects both physical and psychological wellbeing
Low back pain (LBP) affects 84% of adults at some point and can weigh heavily on their lives. In addition to the physical impairments, LBP can also have a negative effect on psychological well-being. Therefore, patients that don't respond well to the original course of treatment for LBP are often managed with a program of exercise and education to address these issues. This approach is considered effective, but evidence has not been very strong and more research is needed. Therefore, a study was conducted to determine the effects of an exercise and education program on patients with LBP and to see if any factors would predict who responds to it best.
Large group of patients goes through 10-week program
Patients with LBP for at least six weeks were asked to participate, leading to 668 completing the two-phase, 10-week program. In phase one, patients attended four 90-minute group exercise and education sessions over four weeks. Education covered topics like how pain can affect mental state and the importance of exercising and managing weight. The exercise component combined flexibility/stability and general aerobic exercises, which were performed during the sessions and at home at least four times a week. In phase two, patients were instructed to continue these exercises at home and to become more physically active for the next six weeks. All patients were assessed before and then three months after the program for pain, disability and other measures.
Significant improvements found in all variables measures
Three months after the intervention, patients experienced significant improvements in all variables. This was seen with pain, disability and psychological status, and 80% of patients reported that their LBP had improved. Results also showed that patients with LBP for less than three months and lower levels of stress and disability were more likely to experience better outcomes. These findings suggest that education and exercise can lead to significant physical and psychological improvements for LBP, and it's more likely to be effective if started early in LBP's progression. Though future studies are needed to confirm these results, medical professionals should take note of this important study and consider the value of interventions to educate patients about their condition while treating their impairments with exercises.
-As reported in the September'14 issue of the
Irish Journal of Medical Science
August 7, 2015
See News
Disclaimer:
The information in the articles, posts, and newsfeed is intended for informational and educational purposes only and in no way should be taken to be the provision or practice of physical therapy, medical, or professional healthcare advice or services. The information should not be considered complete or exhaustive and should not be used for diagnostic or treatment purposes without first consulting with your physical therapist, occupational therapist, physician or other healthcare provider. The owners of this website accept no responsibility for the misuse of information contained within this website.