News
Exercise and education program improves quality of life after surgery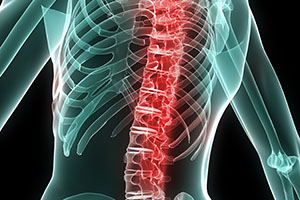 Physical therapy and exercise may play important role in recovery process
Lumbar microdiscectomy is a type of surgical procedure used to treat patients with back problems like herniated discs and is one of the most common surgeries performed in the U.S. Following surgery, many patients experience pain and disability, which can negatively affect their health and quality of life (QoL). Physical therapy and exercise have been shown to improve QoL in patients with low back pain and may be capable of leading to similar changes for patients after surgery, but evidence is lacking to support this. Therefore, a powerful study called a randomized-controlled trial (RCT) was conducted to evaluate the impact of physical therapist-instructed exercises on patients after lumbar microdiscectomy.
Patients receive either education alone or along with exercise
Patients scheduled to have a lumbar microdiscectomy for the first time were asked to participate and screened for eligibility. A total of 77 patients were included in the RCT and randomly assigned to either the education only or education and exercise group. The education was a one-hour session that took place 4-6 weeks after surgery in which the therapist helped patients understand their back problems and how to care for it. The exercise program consisted of strength and endurance training for the back, trunk and lower extremities. It began a few days after the education session and occurred three times a week for 12 weeks and progressed based on each patient's abilities. All patients were assessed using a survey called the Short Form 36 (SF-36), which measures QoL, before and after each intervention.
Exercise helps patients achieve greater overall improvements
When compared to the education only group, results showed that patients in the exercise and education program experienced greater improvements in the SF-36. This was based on improved scores in the scales of physical function, and physical and bodily pain, which together are reported to be the best scales for measuring physical health. These findings suggest that an intense 12-week strength and endurance-training program can lead to significant benefits in physical function and overall QoL for patients following lumbar microdiscectomy. Doctors should therefore consider utilizing such a program, as administered by a physical therapist, in the rehabilitation process after surgery to help ensure optimal physical and mental recovery.
-As reported in the September'14 issue of
Clinical Rehabilitation
April 30, 2015
See News
Disclaimer:
The information in the articles, posts, and newsfeed is intended for informational and educational purposes only and in no way should be taken to be the provision or practice of physical therapy, medical, or professional healthcare advice or services. The information should not be considered complete or exhaustive and should not be used for diagnostic or treatment purposes without first consulting with your physical therapist, occupational therapist, physician or other healthcare provider. The owners of this website accept no responsibility for the misuse of information contained within this website.